Governance & Risk Management , Incident & Breach Response , Professional Certifications & Continuous Training
Data Breach & Fraud Prevention Summit: A Preview
Security Thought Leaders Focus on New Approaches to Tackle Breaches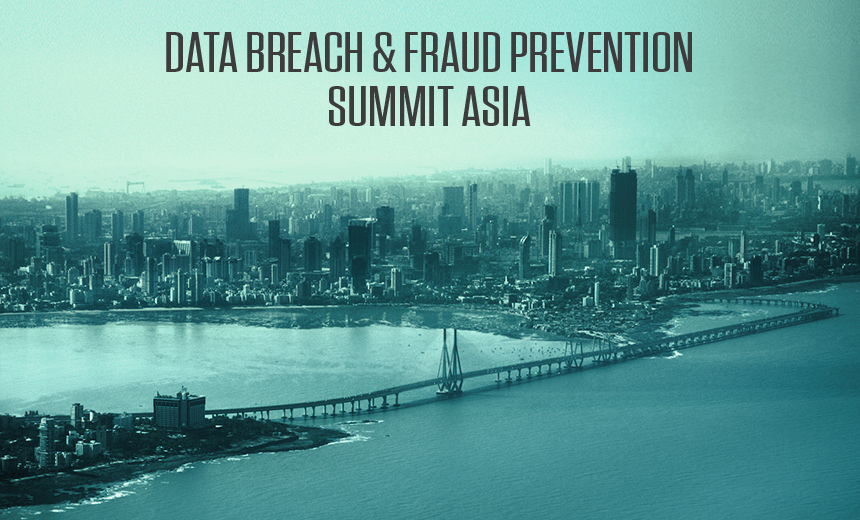 This year has brought us increasing targeted attacks, cyber extortion and growing threats to critical infrastructure. Today's threat actors are more focused, funded and disruptive than ever. And Asian enterprises are not exempt from attack, with financial and other sectors falling victim to these strikes.
See Also: Live Webinar | How To Meet Your Zero Trust Goals Through Advanced Endpoint Strategies
After having held successful Data Breach Summits in Mumbai and Bangalore, ISMG will now host the Data Breach & Fraud Prevention Summit Asia 2016 in Mumbai on Wednesday, June 8, at The Leela.
The summit, intended for senior InfoSec and fraud professionals, will provide a holistic, strategic approach to looking at the problem of data breaches that affects all sectors.
Information security professionals still seem to rely on the tried and tested "defensive strategy" to security, which has slowly proven to be ineffective in the face of the rapidly changing threat landscape. Cybersecurity defences are often unsuccessful in responding appropriately to such threats.
Legacy strategy and mind-sets mean that practitioners often lack the capacity to morph with the problem and are constantly fighting off the ubiquitous and relentless waves of successful targeted attacks.
The objective of this one-day summit is to take a practical view of the problem and find new approaches to address the concerns of security professionals.
Themes are built around:
How to build a resilient cybersecure ecosystem;
Relevance of a pragmatic risk-based approach in fighting emerging threats;
Defending against the next big security incident;
A holistic approach to tackling data breaches
Thought-Provoking Sessions: A Preview
We have a rich line-up of experienced speakers and security leaders from across the industry, as well as subject matter experts who will share their real-time experience and discuss new approaches to fight threats.
Given that the attacks are a fact of life, security leaders believe that the quest is no longer to defend completely, but to detect and mitigate as quickly as possible. The summit, intended for senior InfoSec and fraud professionals, will provide a holistic, strategic approach to looking at the problem of data breaches that affects all sectors.
Some critical concerns it will focus on are:
Challenges in building incident response planning for protecting critical infrastructure;
How to expand the scope of a breach response plan, going beyond technical operations and bridging the functional gaps;
Challenges of defining risks in a dynamic threat landscape;
Challenges of collaboration in building a resilient cyber defense;
Breaking through regulatory obstacles in addressing cybersecurity;
Challenging the complexities of breach disclosure and how to respond.
The summit brings thought-provoking keynotes, exclusive sessions by security experts, panel discussions, spotlight and plenary sessions and an opportunity to network with your peers on cybersecurity challenges.
The summit will commence with the keynote by Sachin Burman, director, National Critical Information and Infrastructure Protection Centre, on how to plan a breach and incident response initiative to protect critical infrastructure, while bridging the multiple gaps (see: Strategies to Secure Critical Infrastructure ).
Thereon, eminent speakers will take you through the task of identifying key risks, mitigation steps to deal with breaches and techniques to address fraud. A special spotlight session by Dr. Amirudin Wahab, CEO, Malaysia Cybersecurity, will take us through the best practices on how to build a resilient cyber defence through collaboration.
As the security industry faces the toughest questions regarding breach disclosure, it is appropriate to close the day's sessions by understanding breach disclosure challenges for India with Pavan Duggal, attorney at Supreme Court and cyber law expert at the plenary session, who will talk about how to navigate a new legal world of complexity to establish a breach disclosure norm.
Other exclusive sessions by industry stalwarts include:
"Defining and Addressing Risk Better in a Dynamic Threat Landscape" by Balaji Venketeshwar, executive director-cybersecurity engineering, PriceWaterHouse Coopers;
"Role Based Behaviour Analytics - Patterns and Anomalies in User Behaviour as Indicators of Attack," by Gigi Joseph, CISO, Bhabha Atomic Research Center.
Panel Discussions by security professionals include topics on:
"Advanced Threat - The APT Kill Chain, Its Defensive Opposite and Establishing Trust;"
"Minimizing Insider Fraud Management."
A unique activity of the event is "Infosec Conversation," a roundtable discussion that makes it possible for participants to take a step ahead and voice their concerns and opinions and offers multiple entry points to engaging discussions with your peers and technology providers.
Our mission is to help information security professionals prepare for the next big incident, and our summits have the distinction of creating a learning platform by involving experts from banking, finance, defence, telecom, government, IT, infrastructure, legal and consulting groups, who bring practical lessons on new techniques and approaches to fight breaches.
For more information, please visit ISMG's event page.
Attending the Mumbai Summit? Please say hello to me and the rest of the ISMG team and let us know how you're enjoying the discussion, as well as what topics and speakers you'd like to see at future events.