Blockchain & Cryptocurrency , Fraud Management & Cybercrime , Next-Generation Technologies & Secure Development
Government Mulls Banning Cryptocurrencies
Draft Bill Calls for Jail Terms Up to 10 Years for Those Who Hold, Trade in Cryptocurrencies
Regulators from government ministries, as well as law enforcement authorities, are considering a ban in India on the sale, purchase and issuance of all types of cryptocurrencies, including Bitcoin, according to news reports.
See Also: How to Uplevel Your Defenses with Security Analytics
Under a draft bill, mining, selling or buying of cryptocurrencies could lead to a jail term of up to 10 years, the news reports say.
A screenshot that claims to display the draft bill, which was shared on Twitter by Bloomberg, says the bill, "Banning of Cryptocurrency and Regulation of Official Digital Currency Bill 2019," would also prevent anyone arrested for a crypto-related offense from being bailed out of prison pre-trial."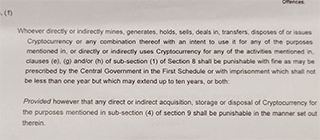 Screenshot of the proposed bill (Source: Bloomberg)
The draft bill also calls for introduction of an official digital currency for India, the "Digital Rupee", which will be closely regulated by government. ISMG reached out to the Reserve Bank of India for comment, but did not receive any response.
The Indian government has long argued against the use of unregulated cryptocurrencies because that they are often used for money laundering and other financial crime. The government has yet to make an official announcement about the bill, Bloomberg reports.
India Proposes 10-Year Jail For Cryptocurrency Use, May Introduce Its Own Digital Currencyhttps://t.co/4vEft0EYVU pic.twitter.com/4dB9vrSrNe

— Nikunj Ohri (@Nikunj_Ohri) June 7, 2019
In addition to Bitcoin, popular cryptocurrencies, which are not tied to any bank, include Ethereum, Ripple and Monero.
The draft bill for banning cryptocurrency has been in the works for some time, with Economic Affairs Secretary Subhash Chandra Garg leading the way.
The Department of Economic Affairs did not immediately reply to a request for comment.
Most cryptocurrency companies declined to comment, saying it would be inappropriate to comment when nothing official has been announced by the government.
Meanwhile, cryptocurrency supporters are hoping the proposal does not see the light of day. "India has always had a negative outlook toward cryptocurrencies," says the founder of one cryptocurrency firm, who requested anonymity. "So I will not be surprised if the Parliament decides to pass the bill and make it into a law."
What the Bill Says
The draft bill states that "whoever directly or indirectly mines, generates, holds, sells, deals in transfers, or issues cryptocurrencies, or any combination thereof, will be liable to imprisonment not less than a year which may extend up to 10 years," the image on Twitter shows.
Under current law in India, the legality of cryptocurrencies is ambiguous.
Although virtual currencies are not recognized as legal tender, use of cryptocurrencies is not explicitly illegal, says Triveni Singh, superintendent of police in Azamgarh. "As a result of this ambiguity, if somebody wants to trade in bitcoins, we can't arrest the person or register a case against him," he says.
Na. Vijayashankar, a cyber law practitioner, notes: "The seeking of ransom through bitcoins is a secondary offense. However, the ambiguity of law may actually reduce the actual punishment."
Legal experts in India term cryptocurrencies as "electronic paper" that cannot be represented as currency. "If somebody represents so and collects legit money, it would amount to cheating and is punishable under Indian Penal Code," Vijayashankar says. "However, if somebody discloses this isn't a currency but can be bought as an artifact of value, it's difficult to punish him under the law unless there is a sort of ban imposed by the government."
The draft bill, if signed into law, could provide much more clarity on this matter.
According to information sought under the Right to Information Act 2005 by Helpful Foundation, an independent organization working on national security and anti-economic offenses, a committee under the chairmanship of the secretary of economic affairs, along with members from the Reserve Bank of India, the Security and Exchange Board of India and the Ministry of Electronics and Information Technology, has submitted a report to the government of India on the use of cryptocurrency. Now that the national elections are over, a decision on introducing the bill is expected soon, according to the response to the RTI request.
The official responding to the query also stated that a final decision on introduction of the bill will be made by the government after consulting with the Reserve Bank of India.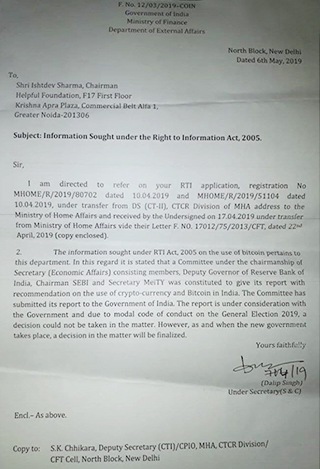 A screenshot of the RTI query by Helpful Foundation
RBI Action
In April, the Reserve Bank of India unveiled a regulatory sandbox that would allow blockchain products - excluding digital currencies - to be tested on a sample of consumers. It has, however, not endorsed a full ban on cryptocurrencies.
The RBI denies any knowledge of a proposed ban on cryptocurrencies, according to another RTI request filed on June 4. According to a blog on Coindesk, Varun Sethi, a lawyer specializing in blockchain, filed the inquiry into the RBI's involvement with the draft bill. In its RTI response, the central bank said RBI was not in communication with governmental agencies during the legislative process and had not received a copy of the bill.
Bill to Backfire?
Some cryptocurrency advocates argue that imposing a harsh penalty for use of cryptocurrencies could actually lead people to illegally as a way to rebel against the forceful nature trade in cryptocurrencies of the state.
Changpeng "CZ" Zhao, CEO of bitcoin exchange firm Binance, in a tweet mentioned that the bill will "really push privacy coin adoption forward."
That Bill in India will really push privacy coin adoption forward.

— CZ Binance (@cz_binance) June 7, 2019
Moreover, the ambiguity around the bill and RBI's "non-involvement" has led many question whether legislation actually will be introduced.
All is fud guys don't believe these people's they r actually doing for make viral their website and earn from AdSense and also they will be thinking that it will help them to drop the btc price but no need to worry we all r breave heart.

— kk menon (@kkmenon108) June 8, 2019