Mortgage Fraud Impact 'Staggering'
Low-Tech Crimes Lead to High-Dollar Losses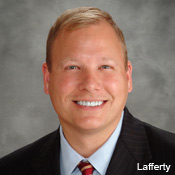 Mortgage fraud is not a high-tech crime, yet it remains one of the fraudsters' most profitable ploys. These schemes drain billions of dollars from banks and consumers each year. And according to industry experts, the financial industry has made little headway toward implementing detection and prevention tools that curb mortgage-fraud losses.

Gartner Analyst Avivah Litan says apathy is the biggest problem, and fraudsters are taking advantage. "It's basically a low-tech crime, which is why no one is really writing about it or watching it," she says. "I don't know why no one seems to be paying attention to this, or why they don't care. Dollar-wise, it has a much bigger impact than a lot of the high-tech stuff," such as phishing attacks and ACH and wire fraud, "everyone seems to be focused on."

Recently, Litan blogged about a scam that exploits property foreclosures. This subprime-mortgage scheme, uncovered by a third-party data-integration provider, is estimated to have cost home lenders and banks between $7.5 billion and $15 billion in 2010.

The scheme is simple, relying on the artificial reduction of a home's value and sales price - just the opposite of what the industry saw in 2007, when prices and values were inflated. But the concept has not changed.

While a property's value and sales price are reduced, the mortgage goes into default, which then allows the realtor, broker and others involved in the shady deal to make a profit through the sale of the property, a property transfer or a new mortgage for the property's higher, actual worth.

Palantir, a third-party systems and data integrator, stumbled upon those patterns during an unrelated data-management project it was handling for a top U.S. bank. Litan would not reveal the name of the institution for which Palantir was working, but she did say the institution also happens to be one of the nation's largest mortgage lenders.

"In working on mortgage pricing and analysis, Palantir inadvertently stumbled across some stark and depressing facts," Litan writes in her blog. "By getting its arms around data stuck in legacy green-screen systems, it found that over 1 percent of subprime sales (where a total portfolio could amount to between $100 billion and $2 trillion) was consistently lost to fraudulent and sleazy real estate deals."

Those "sleazy deals" typically involved the same foreclosure scheme perpetrated by the same characters. Once the fraud was detected, it was easy to see. "They basically saw the same realtor and broker's name in all of these transactions," Litan says. "I think this scheme is common, and if you look at the rings getting busted up, they're not localized; it's happening all over the country."

The problem: No one is looking for the patterns, and mortgage-lending systems are not designed to detect fraud. "They were not designed for data-mining," Litan says. "It takes a lot to bring all of these disparate systems together."

But it's not rocket science, either. "I'm suggesting they need to get their hands around the data," Litan says. "It's hard to do pattern integration, but it's very easy to ask the question." In the scheme Palantir detected, once the broker's name had been flagged, it was easy for the institution to then ask how many properties that broker was and had been involved with.
Mortgage Fraud: Profitable In Any Economy
Mortgage fraud is a tough crime to fight, in part because schemes remain profitable regardless of market condition or stability.

L.T. Lafferty, a white-collar criminal defense attorney and former federal prosecutor who in January said the so-called "bust market" would continue to yield opportunity for high-dollar schemes, says mortgage fraud remains far too prevalent.

"I don't think there has been a lot of change from 2009 to 2010," Lafferty says. "Florida is still at the top and loan-origination fraud is still at the top."

Fraudsters are taking advantage of the depressed real estate market, and Lafferty says the industry can expect the market to stay depressed through 2012. The good news, however, is that losses associated with mortgage fraud are gradually declining.

"Loan-origination losses, the most common form of fraud, are down from over $27 billion in 2006 to just over $10 billion in 2010," Lafferty says. "The losses are still staggering, but they are nowhere near as severe as they were five years ago. I'm not trying to put a positive spin on the problem, but perspective is important." [See Farkas is Tip of Mortgage Fraud Iceberg.]

According to the Federal Bureau of Investigation's 2010 Mortgage Fraud Report, losses in 2010 were down $4 billion from 2009, when the FBI reported mortgage-fraud losses of approximately $14 billion.

Regulatory reform, more open investigations and more dedication from law enforcement to end mortgage fraud are paying off. Law enforcement has a greater understanding today than it did six years ago about how mortgage fraud is perpetrated. "They're also using more sophisticated tools to investigate and prosecute those cases, like data analysis," Lafferty says. "I also see more cooperation with financial institutions. So those are all good things."

What's not so positive is that prosecutors and investigators are failing to see the larger picture, such as the national rings and organized crime syndicates that are behind mortgage fraud schemes. Investigations too often focus on local fraudsters, rather than investigating lenders, financial institutions and mortgage brokers.

"Organized crime sees that this is a good business to come in, exploit and take advantage of the loopholes," Lafferty says. "We see the same thing in healthcare, too. If the problem lies with opportunity, reward and relatively low-risk association, then we need to address those root causes. Identify and close the loopholes that create the opportunity, and couple that with greater law enforcement scrutiny and enforcement."