Supreme Court to Hear Privacy Case
Involves Marketing of Pharmaceuticals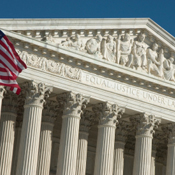 The U.S. Supreme Court has agreed to hear a healthcare privacy case involving whether Vermont can ban the use of certain prescriber-identifiable data in the marketing of pharmaceuticals.

At issue in the case, Sorrell v. IMS Health Inc., et al (10-779) is "whether a (state) law that restricts access to information in nonpublic prescription drug records and affords prescribers the right to consent before their identifying information in prescription drug records is sold or used in marketing violates the First Amendment," according a blog, sponsored by a law firm, that tracks Supreme Court activity.

A U.S. Court of Appeals ruled in November that the Vermont law was unconstitutional. Drug database firms IMS Health, Verispan (now SDI Health) and Source Healthcare Analytics, as well as the Pharmaceutical Research and Manufacturers of America, filed the suit.