WH Questions Bill's Clandestine Operations Clause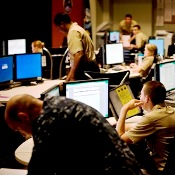 The Obama administration Tuesday expressed reservations about a provision in the proposed National Defense Authorization Act for fiscal year 2012 that would authorize clandestine operations in cyberspace.

"The Administration agrees that appropriate military operations in cyberspace are a vital component of national security, but objects to Section 962," a statement of administration policy issued by the Office of Management and Budget said. "The administration has concerns about this provision and wants to work with Congress to ensure that any such legislation adds clarity and value to our efforts in cyberspace."

When contacted Tuesday evening for clarification on the statement, an OMB spokeswoman promised to look into the matter, but did not provide a response by mid-morning Wednesday.

Section 962 of HR 1540 affirms the defense secretary's authorization to carry out in cyberspace clandestine operations as well as activities to support of military actions against targets overseas and to defend against cyberattacks on Defense Department digital assets.